Introduction
Having a professional email account associated with your domain name is essential for businesses and individuals alike. cPanel, a popular web hosting control panel, provides a straightforward way to create and manage email accounts. Make sure you are already logged in to cPanel
Note: If you encounter any issues logging in, please contact our support team for assistance.
Accessing the Email Section
a. Once inside cPanel, locate the 'Email' section. This can typically be found among the top options on the main dashboard. b. Click on 'Email Accounts'.
Creating a New Email Account
a. Within the Email Accounts page, click on the 'Create' button.
b. Fill out the desired email prefix (e.g., "contact", "support", "yourname") in the provided field.
c. Choose the domain associated with the email account from the dropdown menu.
d. Set a strong password for the email account. We recommend using a combination of letters, numbers, and special characters.
e. Choose the mailbox quota. You can set a specific storage limit or select "Unlimited" if you don't want to impose any restrictions.
f. Once all fields are filled out, click the 'Create Account' button.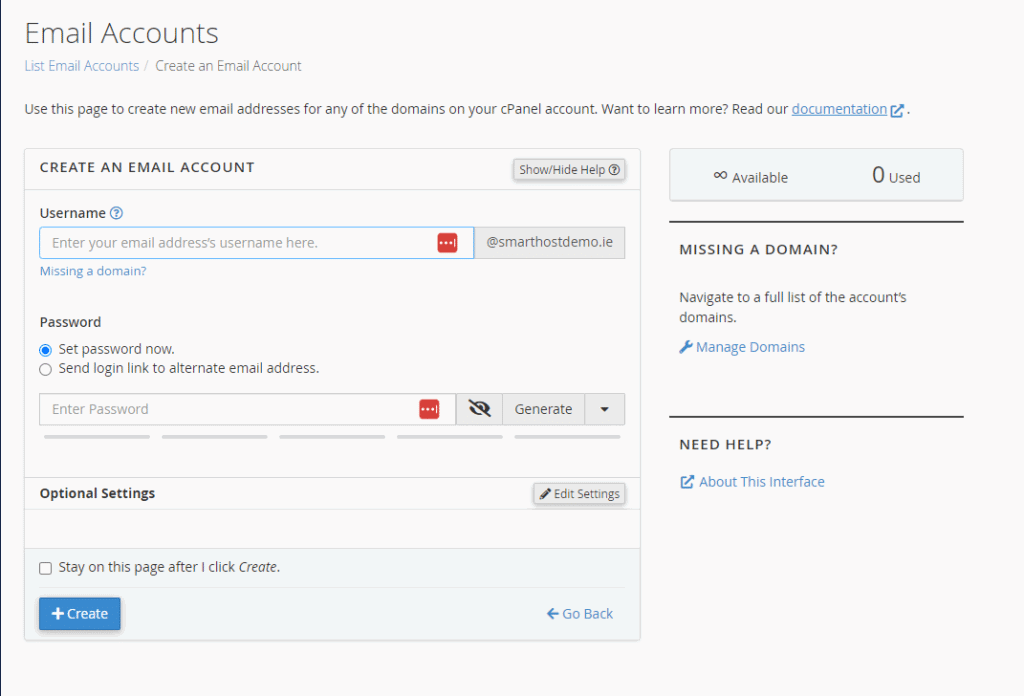 Confirmation
After clicking "Create Account", you should see a confirmation message indicating that the email account has been successfully created. From this point, you can access, manage, and send emails using the new account.
Why Is This Important?
Having a domain-specific email account enhances your professional image, ensuring that communications are trustworthy and aligned with your brand. It also offers greater control over security, spam filters, and storage compared to generic email providers.
What's Next?
Now that you have set up your email account, consider:
Configuring your email on various devices like smartphones and desktop email clients.
Setting up email forwarders or setting up autoresponders for efficient communication
Exploring additional cPanel features to optimise your website and email functionalities.